2015, the Greeks are trying to heal their wounded country. To do so, they must revive their economies while undergoing pressure from their creditors. What could they dream about at night?
Your goal:
Clear a maximum of debts by "dealing" with as much creditors as you can.
Touch the playing surface to make Yanis jump so he avoids holes and Angela!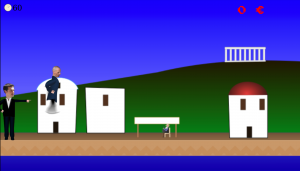 The longer you hold it down, the higher you jump. Charge into the creditors!
Warning:
Your time is limited. You collect 5 sec each "explanation".
On mobile device : Inside browser menu, touch "add to home screen" transform it into an application.