Stylized 3D medieval fantasy meshes, animations, emitters pack. Soon Available on Unreal Engine Marketplace.
Changelog
1.1 :
Compatibility update for Unreal Engine 4.22
Fixed Swords geometries / textures for mode realistic breaking
Rescaled swords Handles to better fit characters hands.
Some ligthing fixes
Post process blueprint improved with easy LUT change (more details in Post Process Documentation)
1.2 :
Improved Shields material
Alternative shield textures and materials examples !
Improved bottles spilled content logic. Fixed decal.
lighter liquid "Splatter" image
Added Chair
Added Mug
Added 3 kinds of rocks with procedural material to give unique tones !
Landscape Material : Added pebbles layer
Post-Process : fixed LUT selector, improved post-process and light blueprints
Updated showcase and examples Maps
Improved and fixed some materials
1.3 :
Renamed MPC_landscape → MPC_Environment
Added Wind parameter
Improved Glass translucency
Improved liquids materials and examples
New Splatters effect (material, texture and logic)
Added two gonfalons with two kind of supports : Wall bar and stand-alone
Animated and fixed materials for each Gonfalon. Animated Ones are using Wind parameter.
1.4 :
Fixed Post-Process LUTs handling
Rebuild lights from scratch. Now lights are light … sorry, I don't know how to say it differently 😝
Lights radius, intensity and "flickering" are customizable. They can cast shadows or not and be set to Stationary to be included in Lightmass.
Improved "magic" grass material
Improved Post-Process and added a "Day" mode.
1.5 :
Post-process fixes
Optimizations for UE 4.25 and maps update
[collapse]
Animations
Doors have two animations :
Opening to the left
Opening to the right Blueprints to play them when a hit is detected are included. You could trigger the event from a cast after a tracing, too.

→ Chests are not using bones animation. They are rotating on their hinge pin.
[ngg src="galleries" ids="6″ display="basic_slideshow" gallery_width="800″ gallery_height="450″ thumbnail_link_text="Display Thumbnails"]
The bottles also "animate" their liquid inside, and if hit, the cork falls. Then if you put the bottle horizontally, an emitter "emits" the liquid and a decal draws a stain simulating the liquid "flow" on the "ground".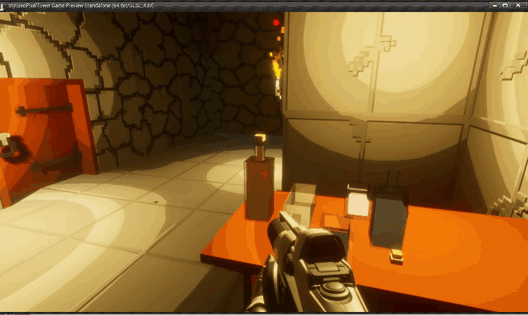 ---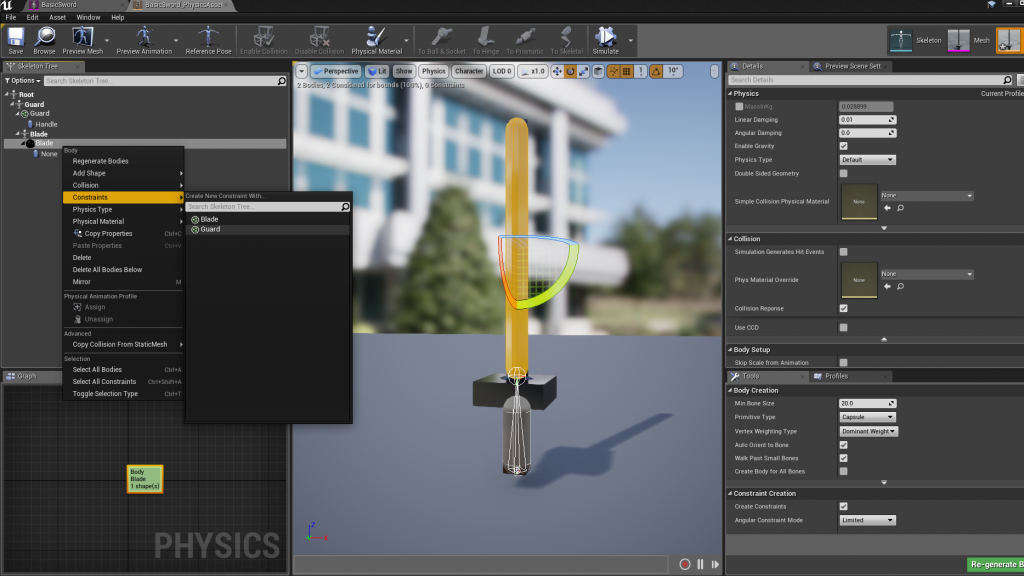 The swords are physical meshes and their Physics Assets are ready to use but there are no constraints so if you activate physics and "shoot" them.
If you want them to be more "rigid", just open the Physical body of a sword.
Right click on the Blade and add a constraint with the blade.